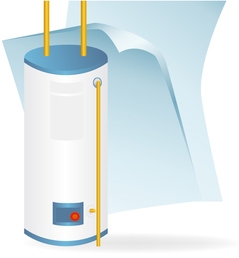 Water Heaters
Repair • Installation • Maintenance
Are those screams coming from your bathroom? Unless you're staying in the Bates Motel, it sounds like something just happened to your hot water heater. Nothing like a cold shower to get the day started. NOT!
If it's happening to you, call Mast Heating & Cooling for any water heater repair needs in Grand Rapids and the surrounding area. Let's face it, most of us tend to ignore our water heaters. Even if it hasn't reached the point of cold showers, now is a great time to have the experts at Mast Heating & Cooling inspect your system to prevent any potential problems.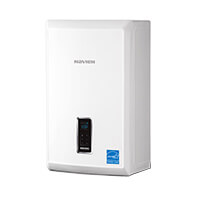 The first water heater was patented in England in 1868. The modern tank storage water heater dates to about 1890. There have been many improvements since then, but the basics have remained the same. An energy source is used to heat an entire tank of water that is then distributed throughout the home.
Considering your hot water heater is usually the 2nd largest energy user in the home, maybe it's time you think about updating the technology.
Mast Heating & Cooling wants home and business owners in and around Grand Rapids to consider a tankless water heater. It's a great way to save money every month on that gas or electric bill. Tankless is more efficient because it's not keeping an entire tank of water hot 24-hours-a-day, 365-days-a-year. Instead a tankless system heats the water as you use it.
Advantages of a tankless system:
Energy savings up to 35% a year
Continuous hot water supply
Compact size
Life expectancy up to 20 years
Mast Heating & Cooling carries some of the industry's most respected brand names. Navien specializes in tankless systems. AO Smith is a leader in both tankless and the older tank-style heaters.
Whole-house tankless systems are most common, but they can be used in other ways:
Remote bathrooms or hot tubs
A hot water booster for dishwashers or clothes washers
A supplement to a solar water heating system.
Professional installation and maintenance of a tankless system is needed to make sure it's operating at peak efficiency. Mast Heating & Cooling's professional installers will use several factors to determine the best location for the heater. They will use their skills and knowledge to make sure it meets all code and safety requirements.
Trust us, the last thing Mast Heating & Cooling wants to hear coming from your home is screams. Call Mast Heating & Cooling to avoid the revenge of the water heater.
Give us a call today to have a skilled technician out to service your water heater today. Looking for annual maintenance on your water heater? We've got you covered. We can help from small repairs to full water heater replacements. We are your trusted water heater experts.
Residential Water Heater Services
All major types of Water Heaters - Conventional, Tankless, Demand, Heat Pump
All major fuels sources - Electric, Fuel Oil, Geothermal, Natural Gas, Propane
Emergency 24/7 service/repair
Water Heater Replacement
Water Heater Leaks